Join SAM and Morningstar for a webinar on direct indexing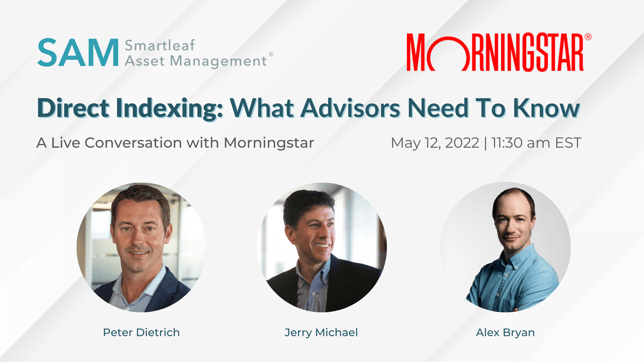 Hello, there!
Join Morningstar Index's Peter Dietrich, Head of Wealth, Morningstar's Alex Bryan, Director of Equity Indexes, and Jerry Michael, President of Smartleaf Asset Management, for a deep dive into direct indexing. Topics covered will include:
What are direct indexes?

Why now?

How much do they cost?

Should I do it myself or outsource?

How complicated is it to work with direct indexes compared to working with ETFs?

What's the difference between direct index SMAs, direct index SMAs in a UMA wrapper and true UMAs with a direct index core?

What makes Morningstar indexes unique?
And more. We hope you can join us, and please feel free to reach out to us on LinkedIn (@SmartleafAssetManagement) in advance of the webinar with additional questions you'd like us to address. Follow this link to save your seat today.
Smartleaf Asset Management (SAM) aims to make direct indexes as easy to work with as ETFs. SAM offers managed direct index portfolios based on Morningstar Indexes.